HOW AN ENGLISH LORD CHANGED MY LIFE
Twenty years ago, more or less, I was working as a freelance journalist for a sophisticated illustrated magazine owned by a well-known multimedia company.
One day the Editor-in-Chief called me.
«I need you to take a plane – asap, it goes without saying – and write an engaging-captivating-superexcellent (= moneymaker) interview with Lord Alistair McAlpine: English baronet, former advisor to former Prime Minister Margaret Thatcher, former treasurer, major fundraiser of the Conservative Party…
Go tonight to the Italian Salento, where he renovated a Byzantine convent and created magnificent gardens.
Understand?».
Whaaat?
«Can I ask you a question? Why me? Can you see me charmingly talking with a classist, stick-in-the-mud, fascist dinosaur, remnant of a crappy past?».
«No.
<pause, gasp> Nope.
But look around you: can you see anyone speaking English fluently here? An English that might sound decent to a pair of aristocratic ears? Huh? You speak American? Ouch… but it's quite the same. Pretty the same. Same! Bye».
???
«Still here?!».
At that time, I was a perfect maverick: an unbranded, unorthodox, very independent-minded person. A leftist rebel, a true Freigeist that goes her way only. I was also a champion of cultural arrogance: I got a Ph.D. and studied with two Nobel laureates using half of my brain. Therefore, I thought: Why do I have to mix myself with an English racist baronet? Gotta control my tongue, smile quantum sufficit, write two dumb notes, and quickly go to the Salento beach. Ah, the beach…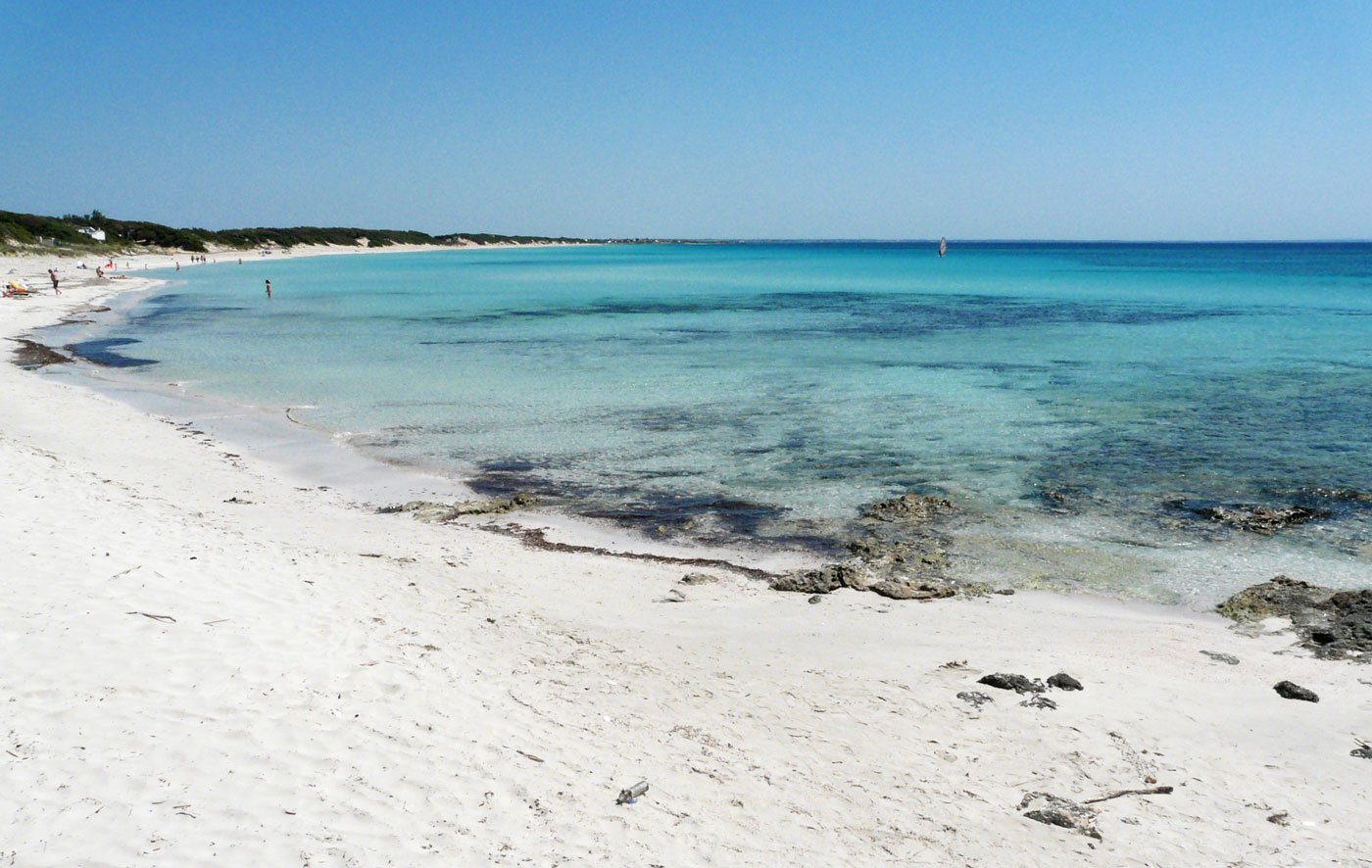 The Punta Prosciutto beach, near Porto Cesareo, in the southern part of the Italian Salento
Lord Alistair Mc Alpine: I have a vague memory of him.
His English was quite incomprehensible to me. He barely opened his mouth when talking. I remember he was dressed as a peasant and wore a packthread instead of a leather belt.
The Salento ancient convent renovated by him: I memorized every detail of it.
If I close my eyes, I can still see it well. It's still vivid in my mind: it was the quintessence of beauty. It was not for the Salento sun and the perfumes of the blooming flowers. They were remarkable but completely vanished. It was not for the terrace and the gardens, created with an eco-friendly, no waste ante litteram attitude. Interesting, but they vanished as well. It was for his taste and his culture: for the very first time in my life, I saw the perfect alliance among wealth, culture, and aesthetic sensitivity (it was also the last one, unfortunately).
Here's what I wrote 20 years ago (translated from a different language):
Marittima di Diso is a small place in the lower Salento, a few kilometers from the sea. The air is warm, moved by a light breeze, and the blue sky is so intense and devoid of any nuance that seems to have just been painted by a child.
Here, 11 years ago, Lord Alistair purchased the Convent of Saint Mary of Constantinople, erected in 1621 in the whitish local stone and suppressed in 1795. During the 19th century, the building fell into disrepair: when Lord Alistair bought it, it was crumbling, and where today the large infinity pool opens, a dung heap and an illegal landfill fermented under the sun. It took 5 years to renovate the Convent and another 4 years to create the complex concert of plants and flowers that floods the fragrant gardens and terraces. From his many English, Indian and Australian houses, he brought here 14 tons of books and a collection of art masterpieces that would turn any international art museum into a peripheral institution. He mixed everything, plants, books, works of ethnic art, antique furniture, musical instruments, masks, weapons, rugs, ethnic fabrics of inestimable value; he mixed them with irony and refinement, and no ostentation; the result was called 'fabulously chic and soulful' by the stern critics of The Los Angeles Times and The Chicago Tribune.
To me is pure beauty.
Every corner of the house is 'full of soul' and, above all, courage. The 17th-century cloister, which, like the well, has recovered all its original structure, houses a precious collection of cycads, all exposed to the south and housed in ancient Salentine holy water fonts, while in the background, under the agile white stone arches, the wall painted in a flamboyant Pompeian red stands out; under the vaults, there are no sofas, but soft piles of antique ethnic cushions, scattered on the ground, ancient inlaid tables from Ethiopia, Ashanti seats and stools, a colorful collection of historical puppets from the griots of Mali.
«Every corner of the house and gardens is a journey to discover beauty and art», explains lady Athena McAlpine, the young wife of Lord Alistair. «And everywhere, the rustic colors of Puglia dominate».
Around the swimming pool, next to a seat cut in an old porous stone and beds of ancient Indian maharajas, strictly in natural wood – «I hate new things and I hate varnished woods. I love what is old, full of signs of wear, and natural», Lord Alistair says with no hesitation – a colossal cereus, the opuntias and the yuccas stand out in the Salento terracottas of Cutrofiano and Lucugnano and in the ancient 'limmi', the pots for laundry that the local peasants used in the past centuries. A Phoenix canariensis, some Cycas and Xanthorrhoea of imposing dimensions rise from the 'piles', containers in smooth and clear stone that Lord Alistair has recovered from the old disused mills.
«I never forget that I am in Puglia. I look for every pot, every bottle and every 'stangato' (the ancient container for olives) from antique dealers, here, in the area, and always according to the plants. Nothing is left to chance: I decide the location of each vase and the creation of each corner of the terrace and garden. However, I refuse to use fertilizers, pesticides, insecticides, chemicals of all kinds. For mosquitoes, I use lemongrass, for ants black pepper. I don't want electric light in my gardens, I refuse to prune and sometimes I don't even cut the grass. There, beyond the lemon grove, there is a free lawn: I like that wildflowers bloom, and the herbs of Puglia grow there. This natural spontaneity is also pure beauty for the senses».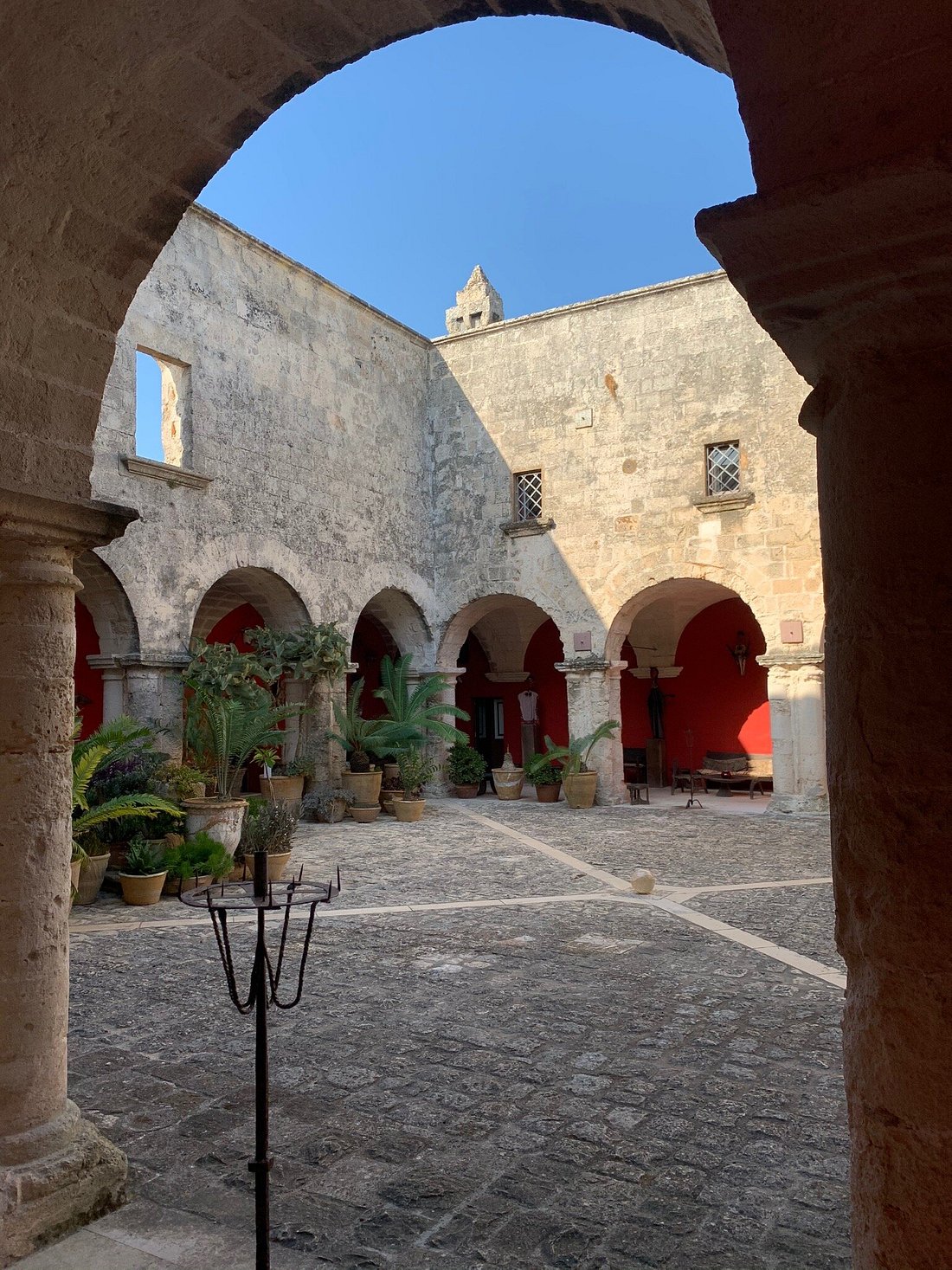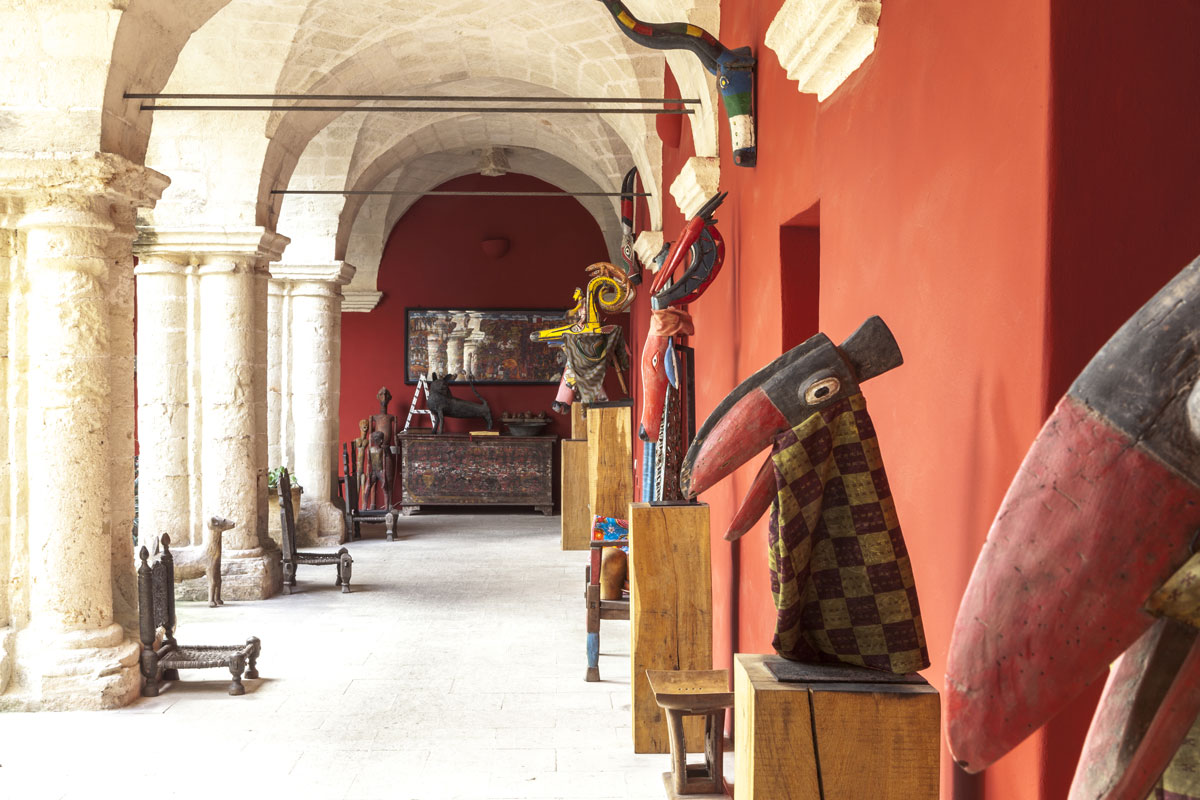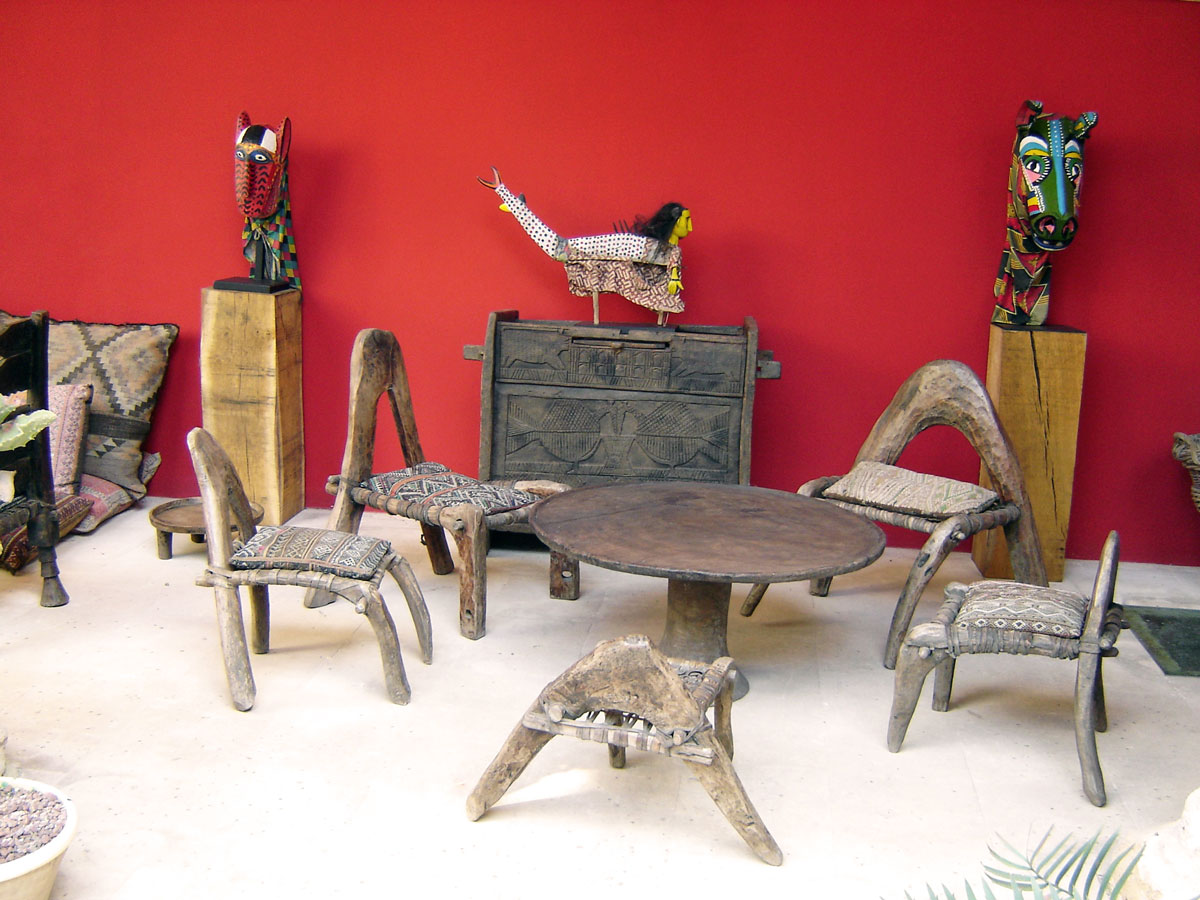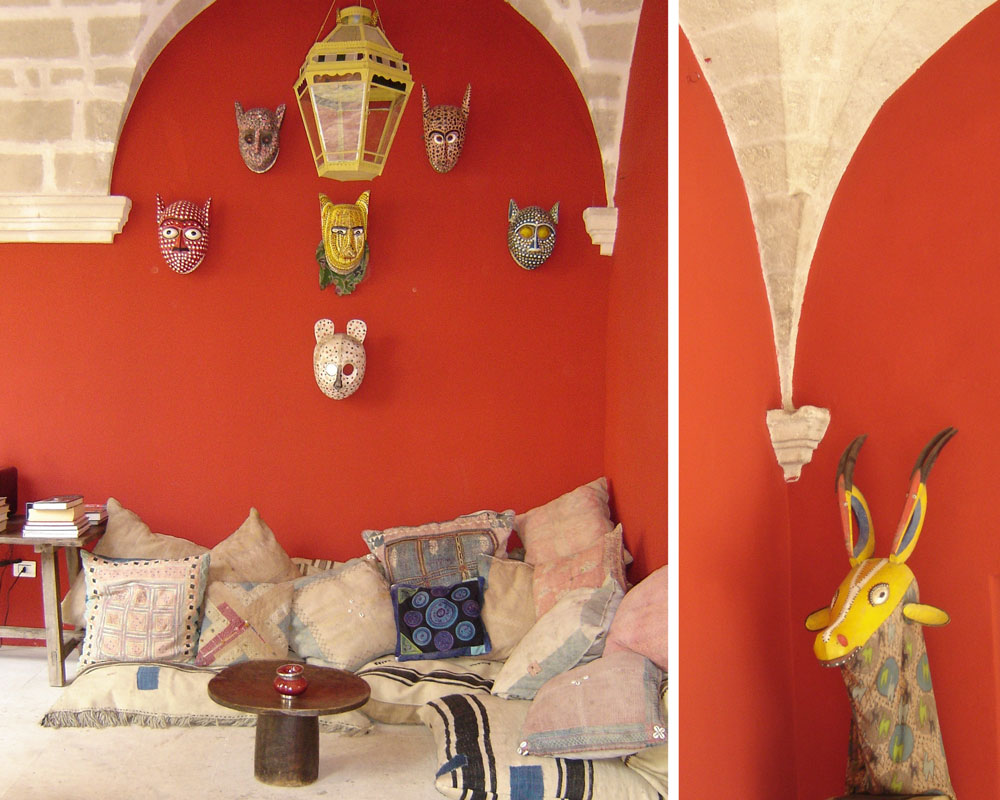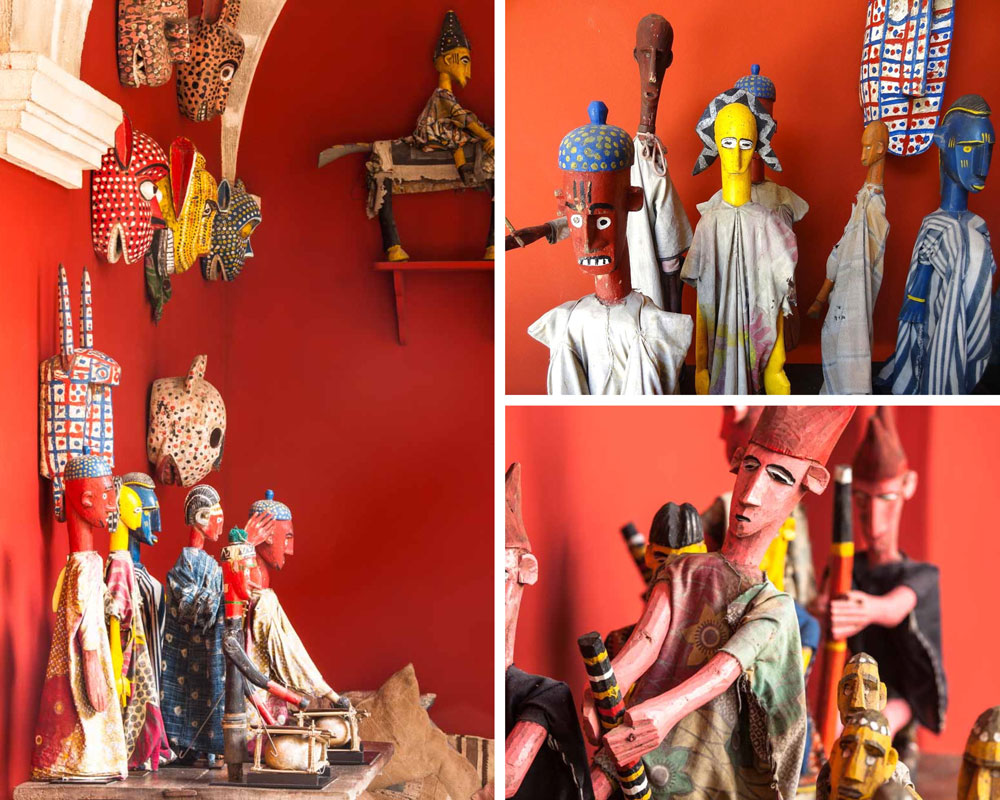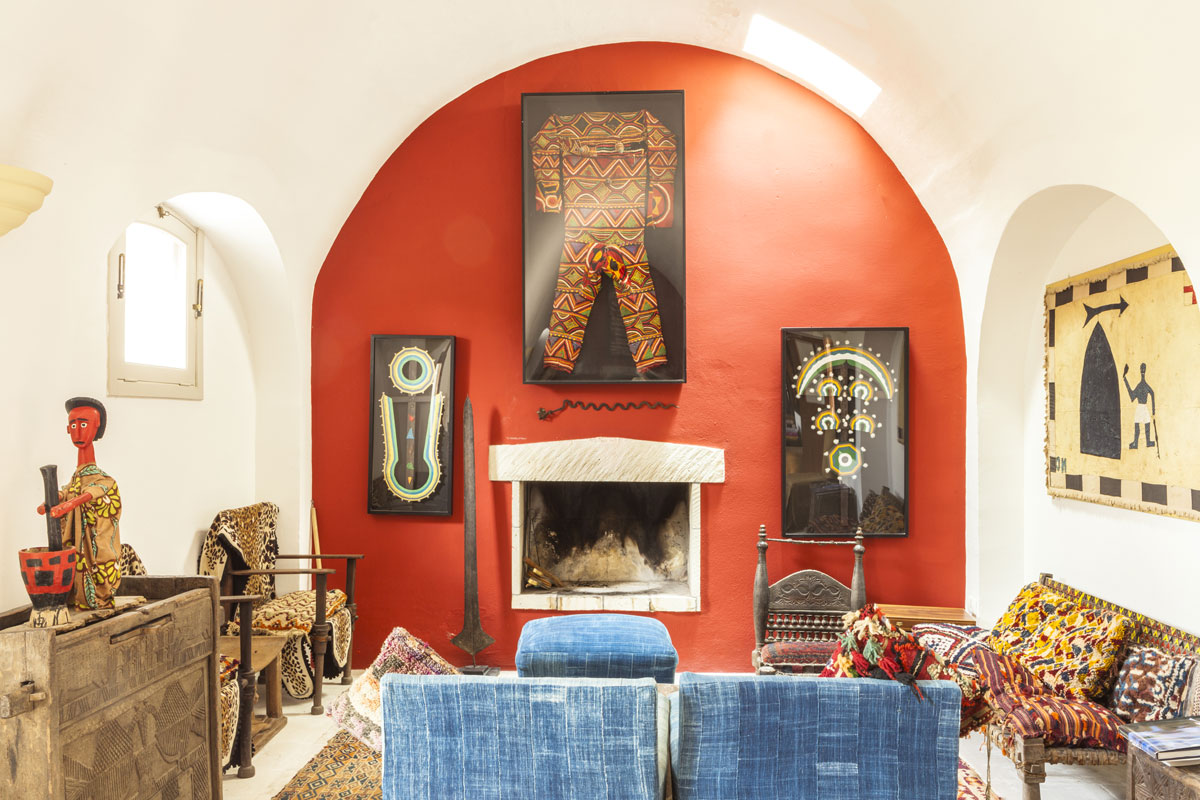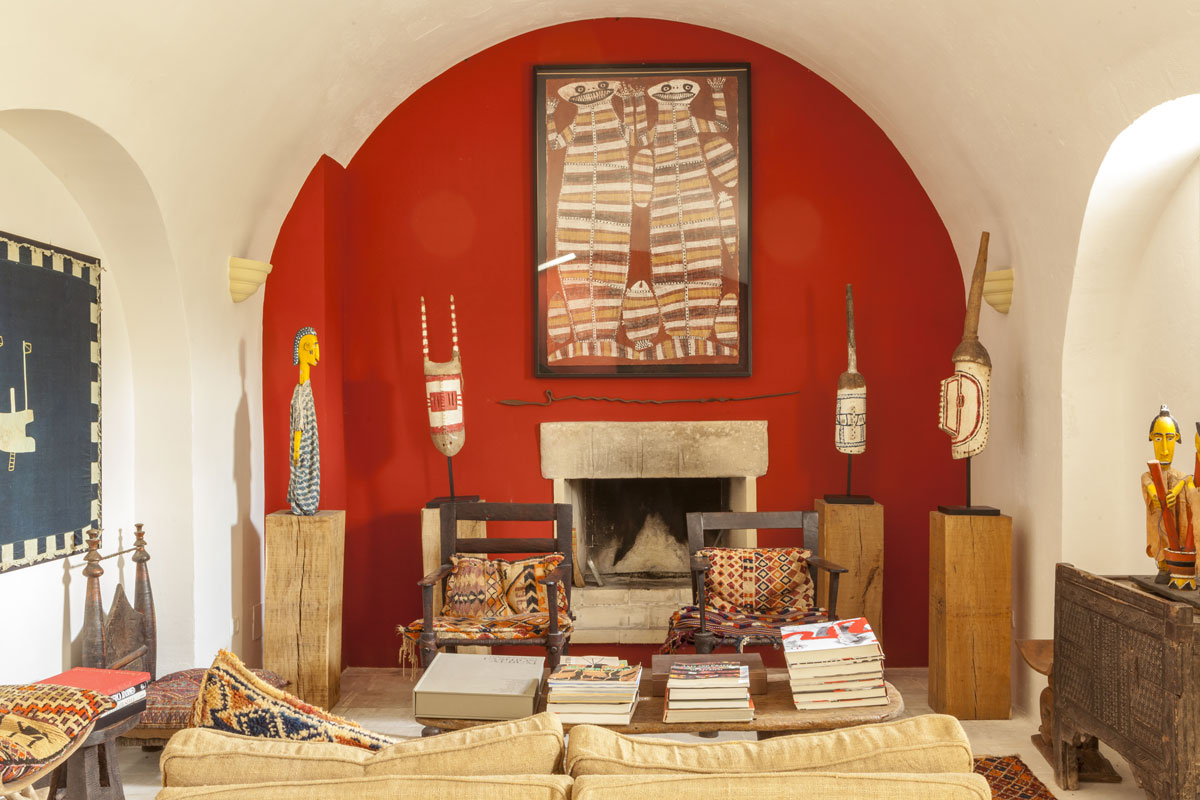 With the very same philosophy, he chose where to display each piece of art. In his residence, I saw the most astonishing collections of Australian Aboriginal art, Mexican folk art, and Thai, Indian, Moroccan, Central African treasures. Each piece was a masterpiece in itself, but what moved me was the magic they created together: fabrics, statues, rugs, tribal items of all kinds (from spears to shields and masks), oil paintings, antique embroideries, wooden sculptures and furniture from all over the world started to gain life and create a vibrant symphony of colors and shapes, standing out from the pale local stone and pastel terracotta.
There was no trace of that typical hybris you can find in almost every lavish mansion. No gross sense of luxury mixed with that impersonal icy touch that is the signature of many expensive interior designers. No ostentation. No flaunting attitude. No pomp and circumstance.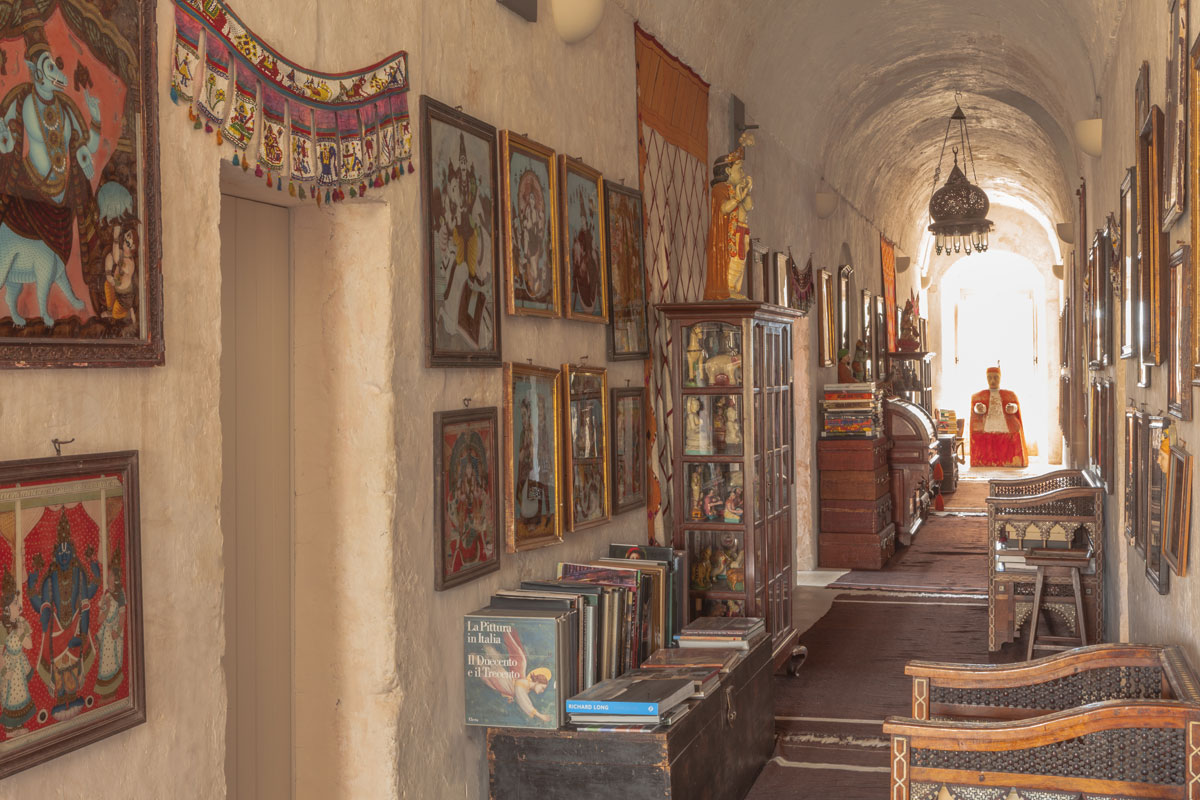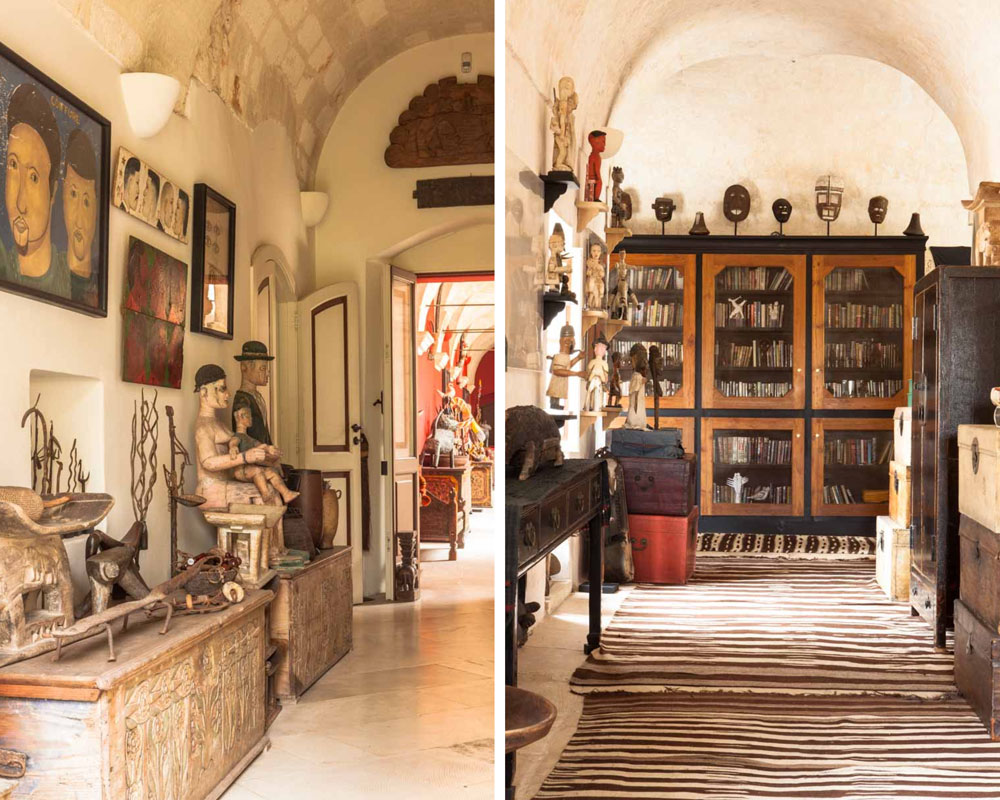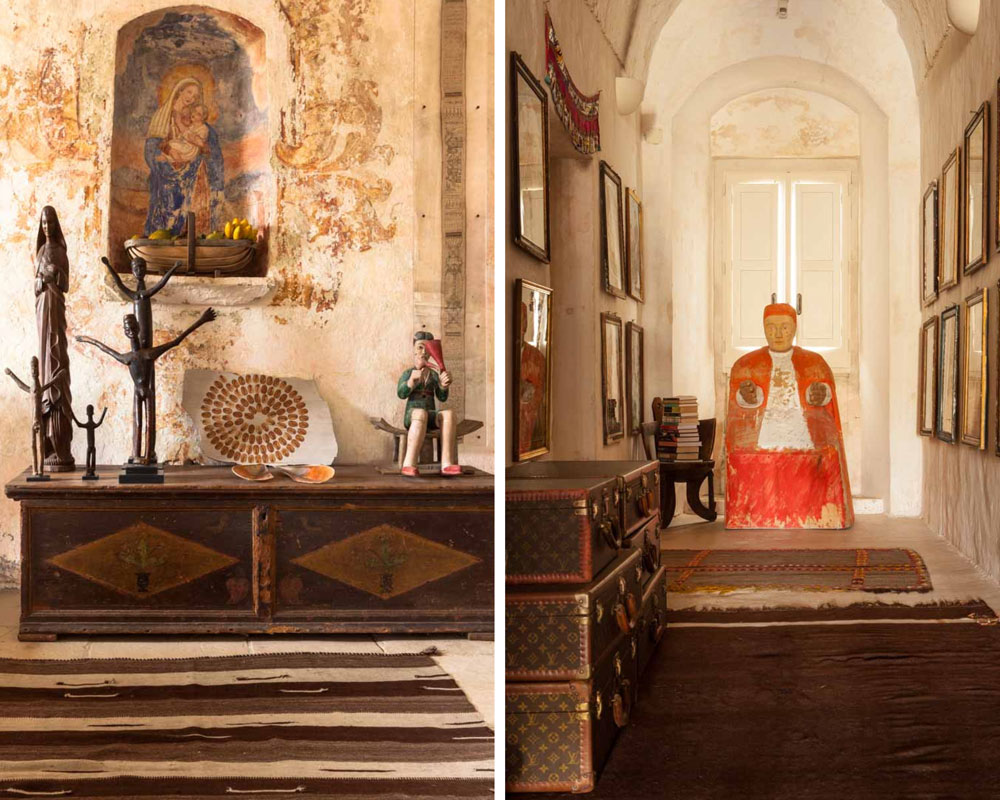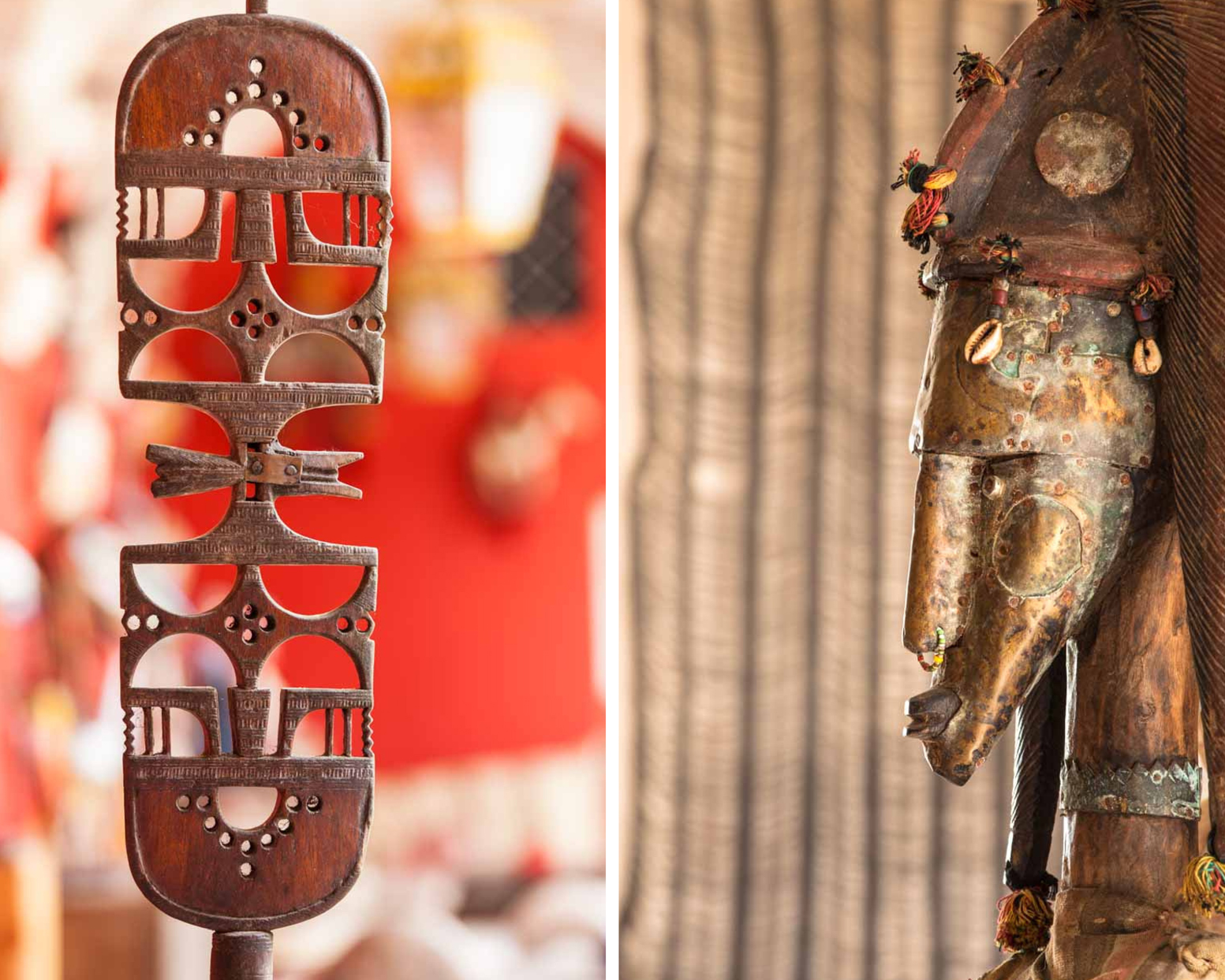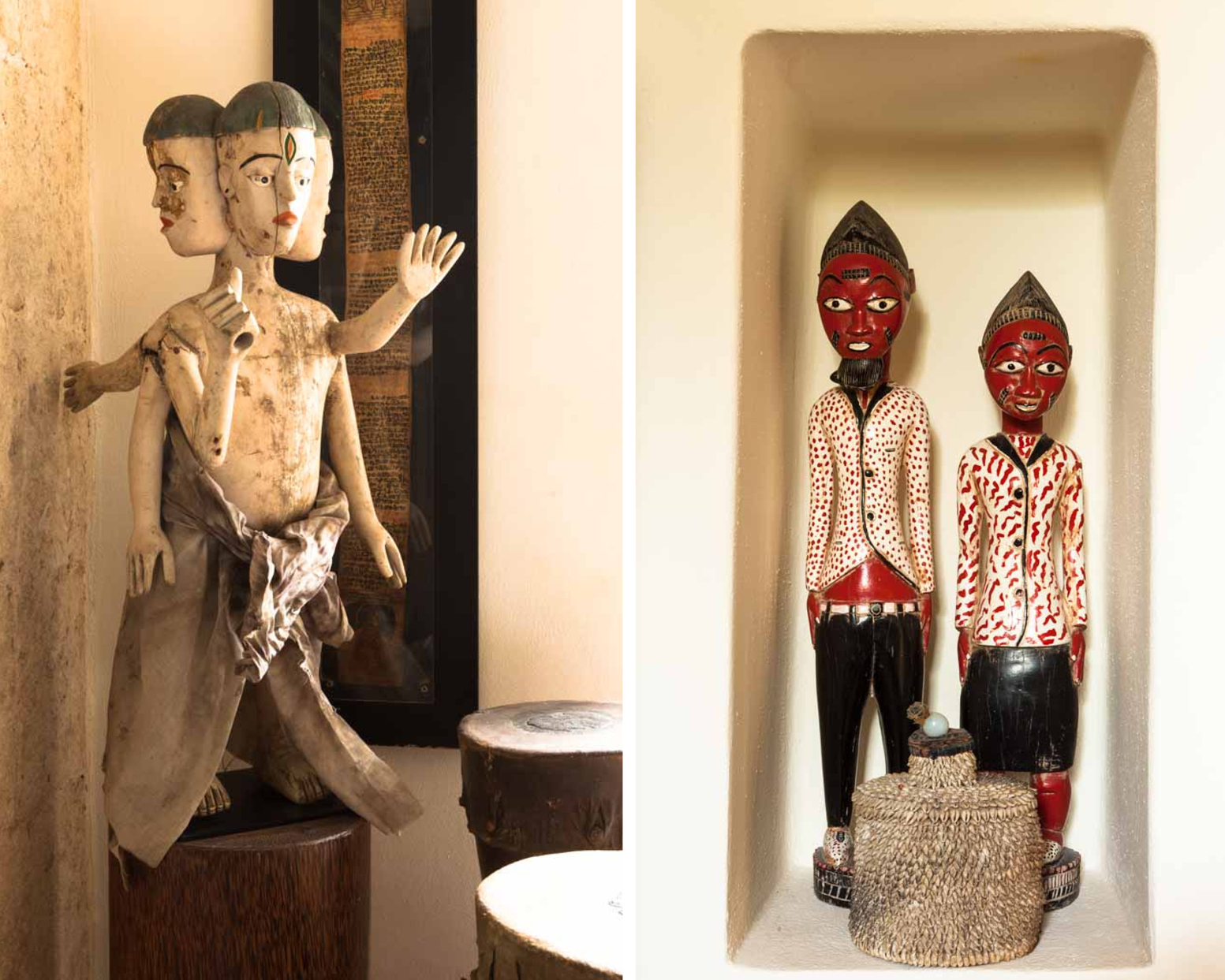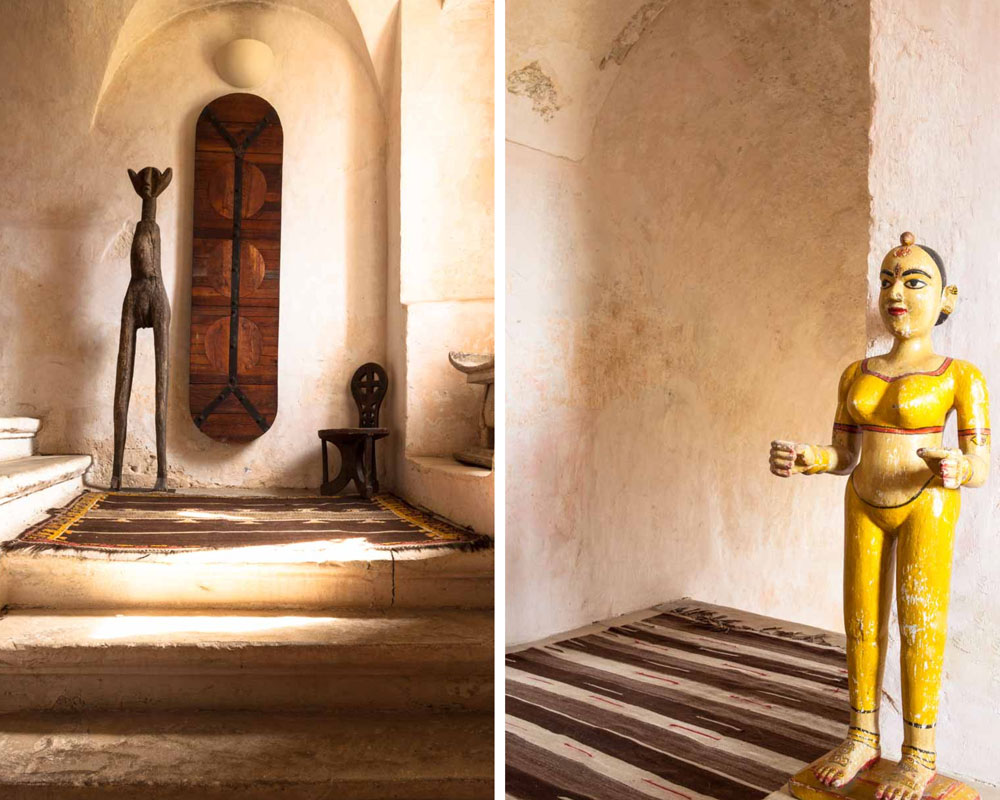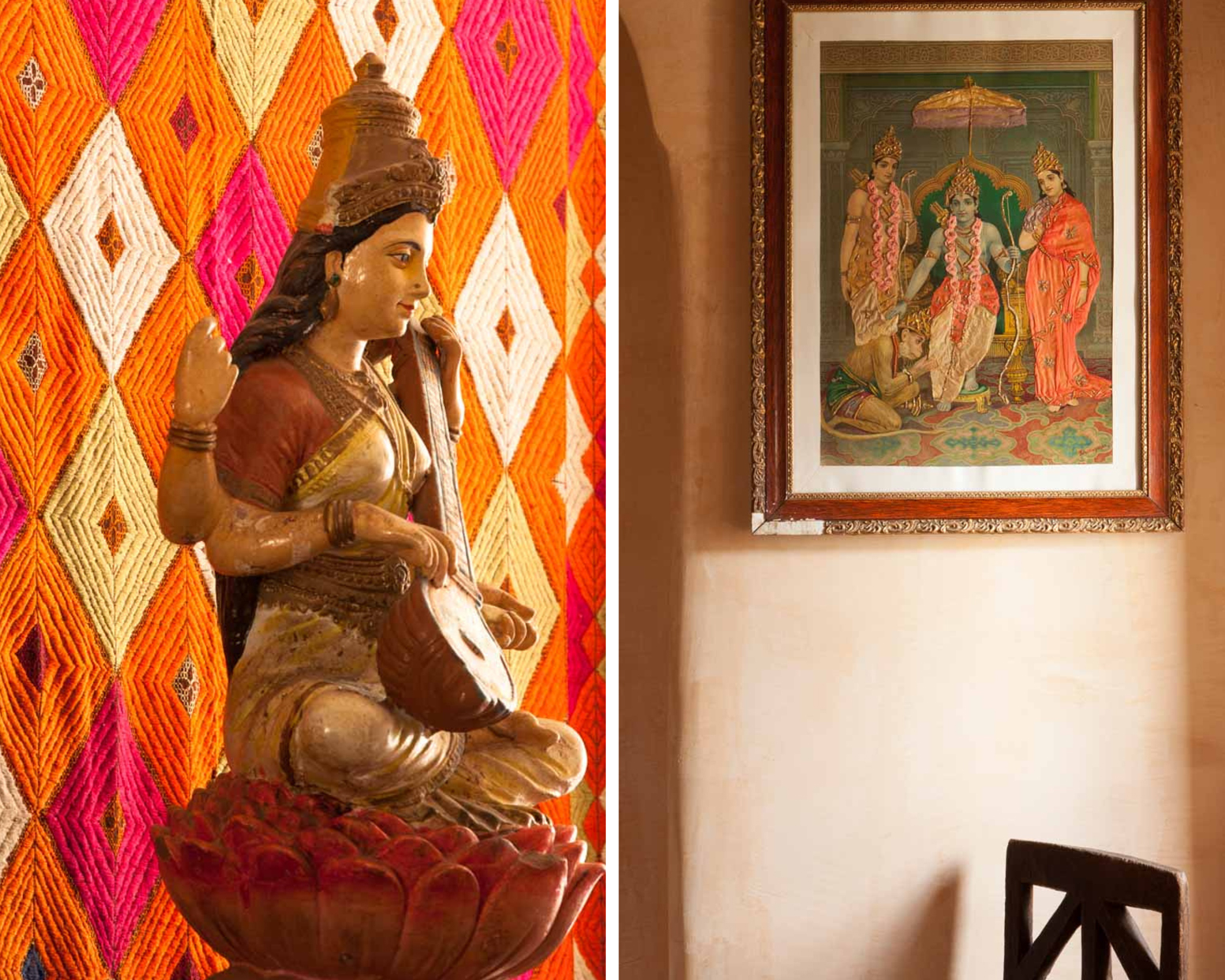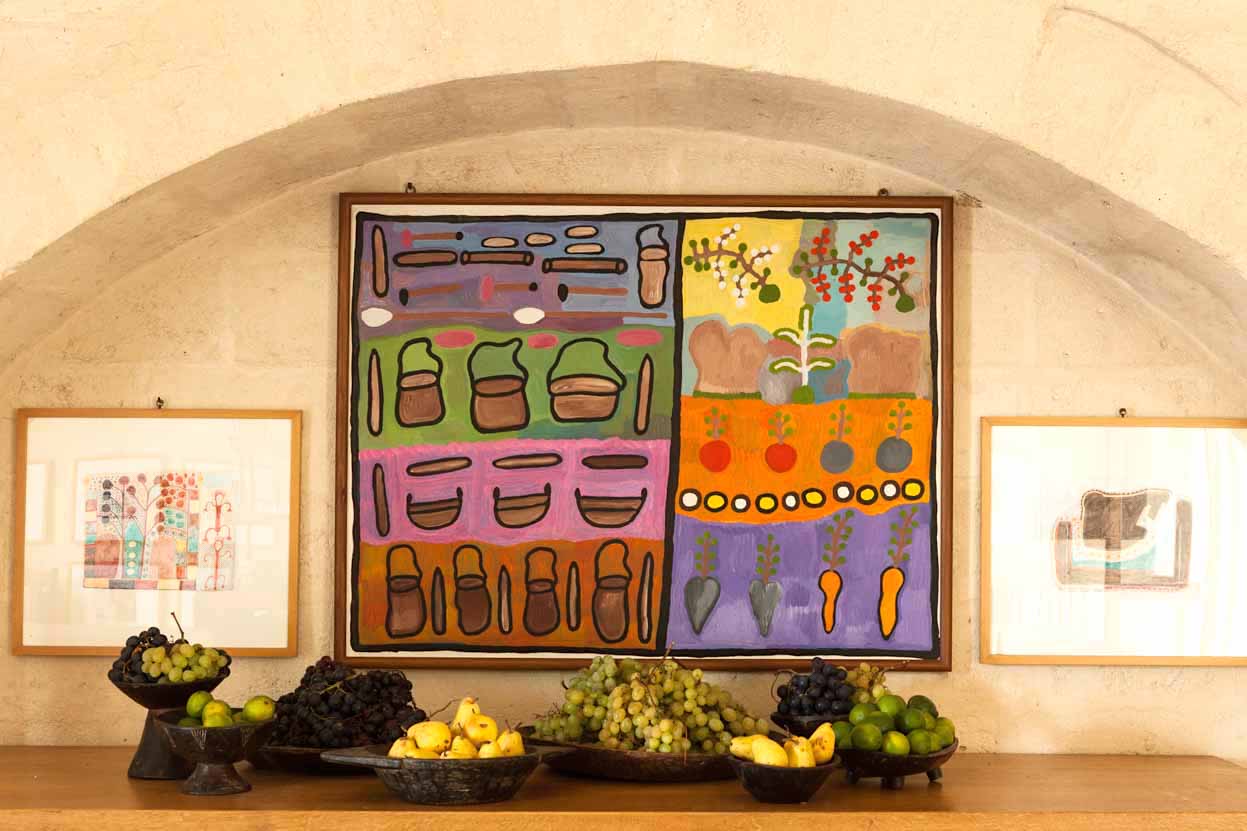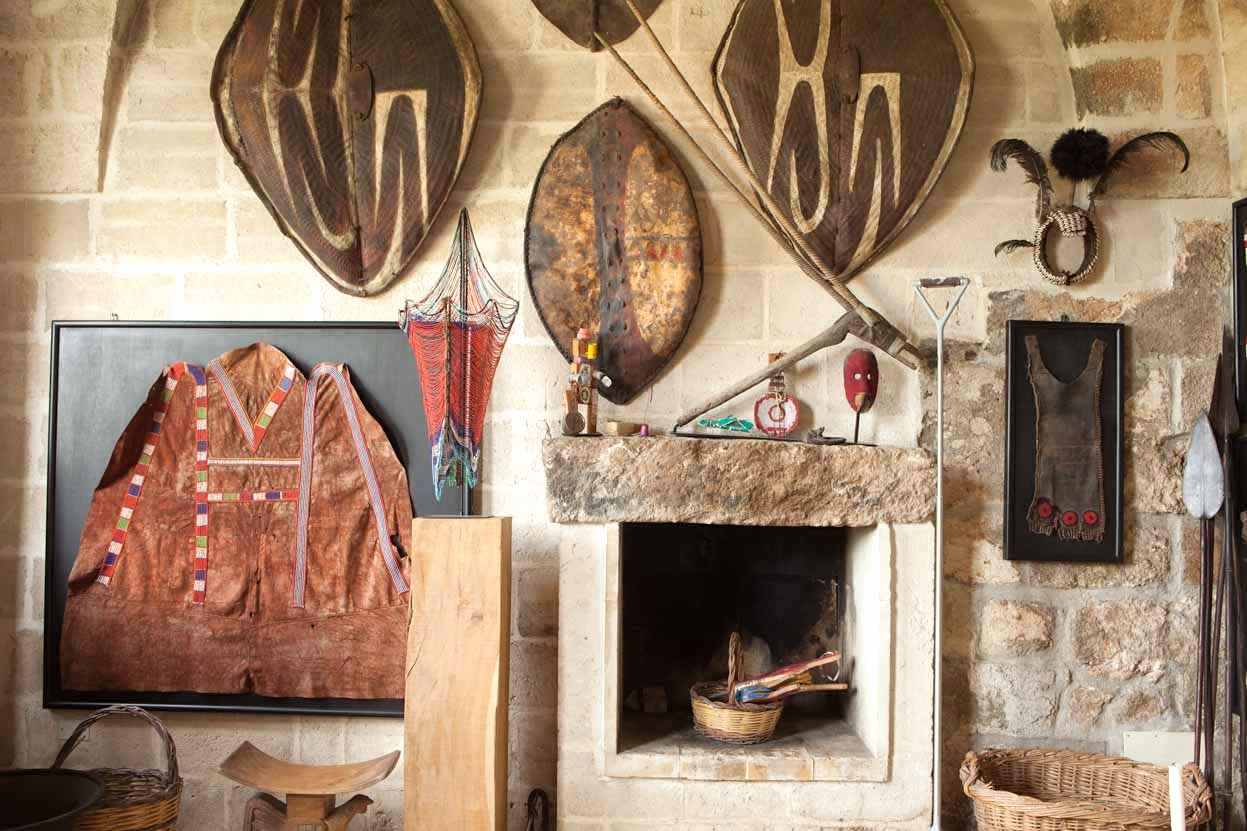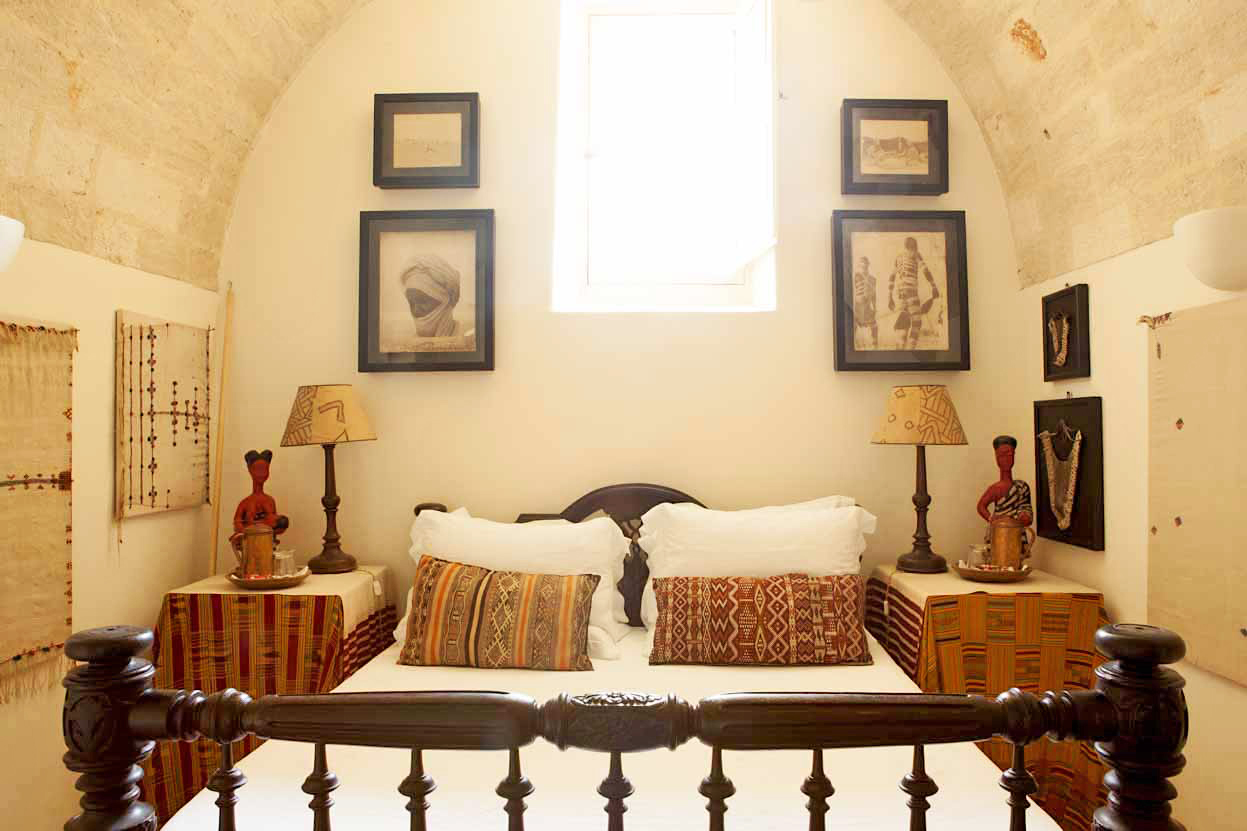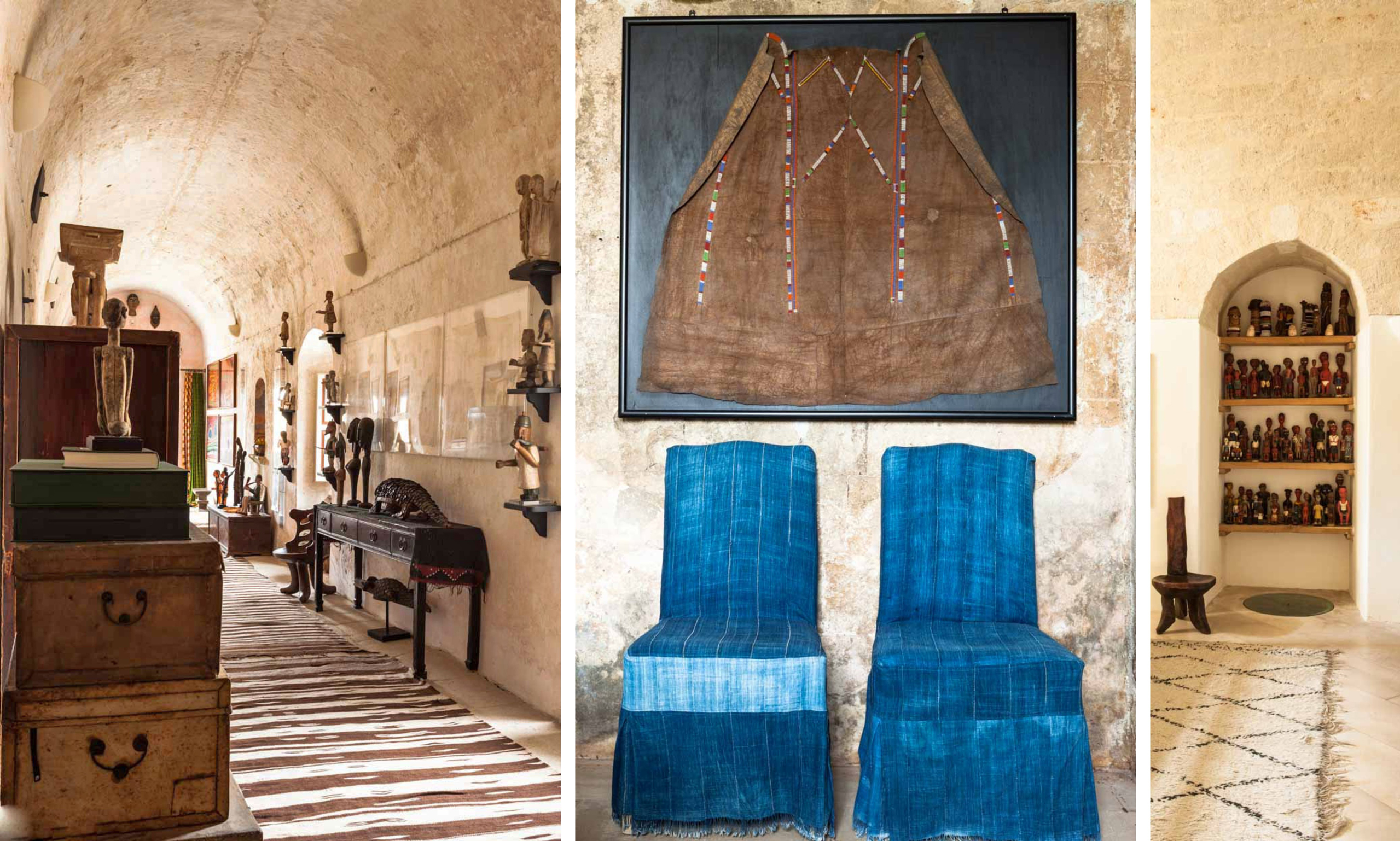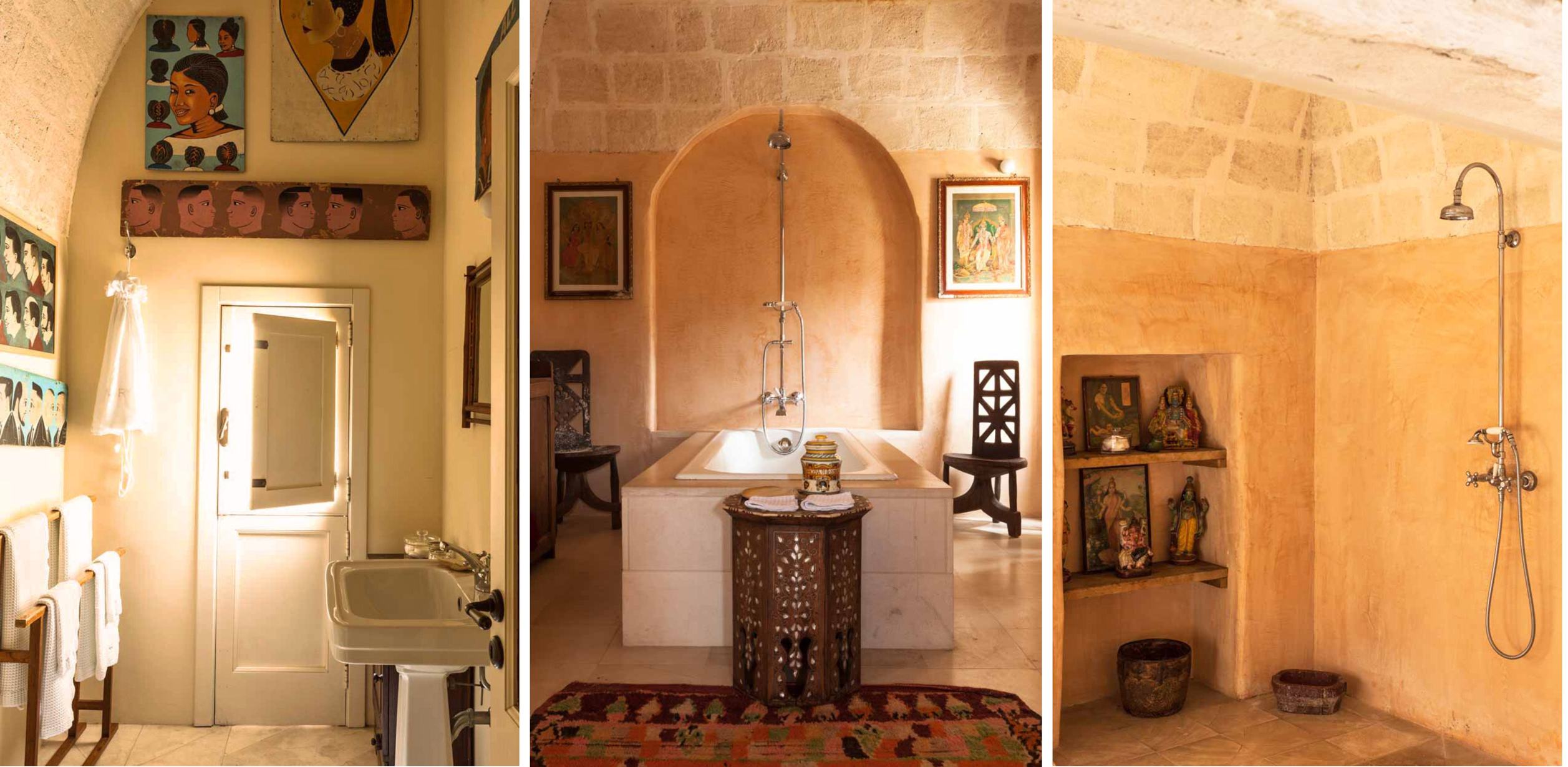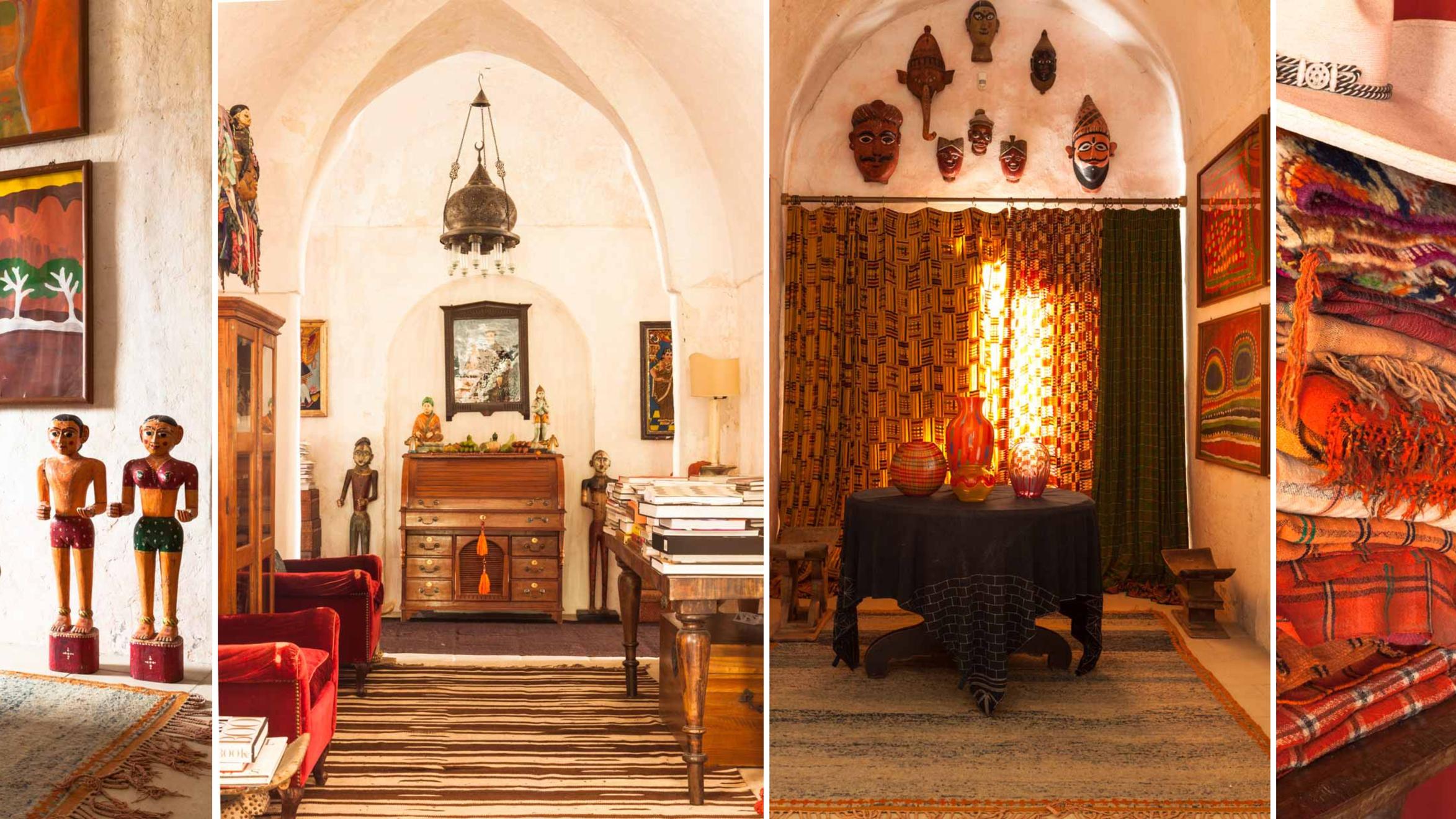 Lord Alistair Baron McAlpine of West Green (who passed away in Salento in 2014) was a philosophy-gardener and a passionate art collector. He owned a gallery,
discovered Mark Rothko and supported Jackson Pollock, and periodically donated portions of his collections to many museums, including the Tate of London.
20 Years ago, I was not unfamiliar with art. My father (who passed away in 2016) is considered one of the most relevant painters of 20th century Central America, and I breathed the smell of the rabbit skin glue since I was a child (my father used it to prepare his pure linen canvas).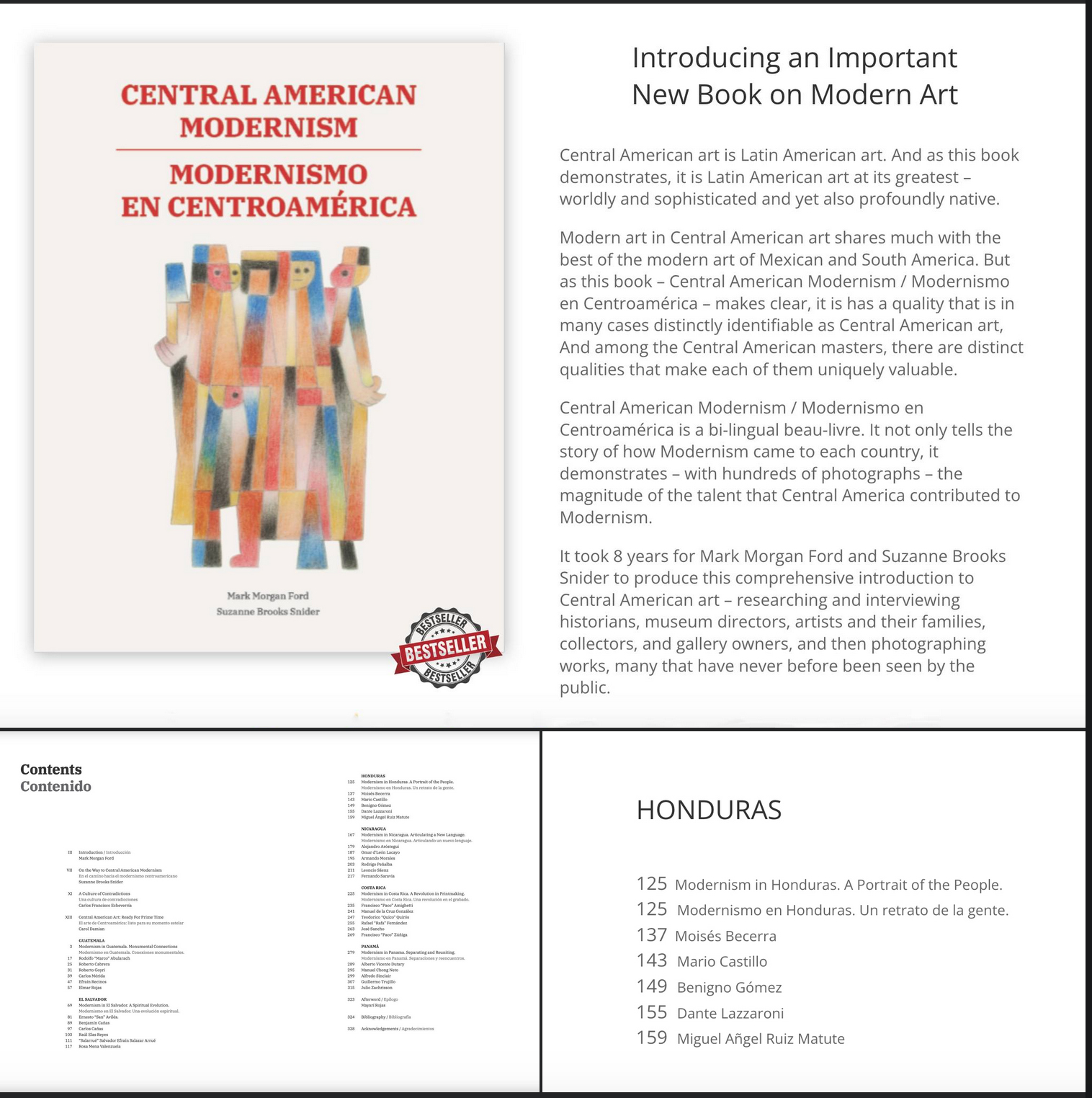 Mark Morgan Ford (New York Times bestselling author and art collector) and Suzanne Brooks Snider (director of the Ford Fine Art galleries), CENTRAL AMERICAN MODERNISM, Cap & Bells Press & Ford Fine Art, US, $ 340. A Honduras chapter is dedicated to my father.
I'm still a maverick, still a rebel, still hostile to a conservative political attitude, but the many life lessons I was taught by people I thought they had nothing to teach me, like Lord Alistair, made me a completely different person. This blog, as well as my love for ethnic art and antiques, is a small tribute to his aesthetics.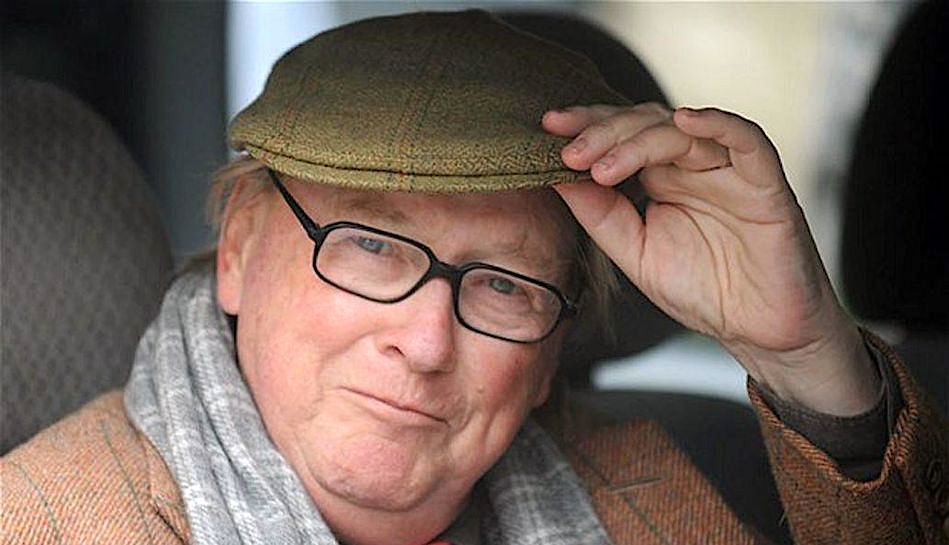 Alistair Mc Alpine

PHOTO CREDITS
Four pictures are mine, the other ones were made by a famous Italian photographer,
and a dear friend of mine, Ferruccio Carassale.
OUR SERVICES
DO YOU NEED ANY HELP?
Did you inherit from your aunt a tribal mask, a stool, a vase, a rug, an ethnic item you don't know what it is?
Did you find in a trunk an ethnic mysterious item you don't even know how to describe?
Would you like to know if it's worth something or is a worthless souvenir?
Would you like to know what it is exactly and if / how / where you might sell it?
WRITE TO US!